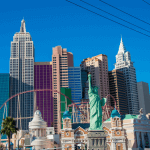 The third year of the Prosper Show did not disappoint! Back again at the Las Vegas Convention Center, along with ASD Market Week and Source Direct, Prosper brought together thousands of ecommerce sellers with a variety of Amazon experts, speakers, and service providers. SellerEngine set up in booth #106 and we didn't need to wait long before it was full of sellers, excited to learn more about how to optimize and maximize their Amazon businesses.
The Prosper Show 2018 was about twice the size of last year's show, both in exhibitors and attendees. Many of the presentations were given to a full house of eager note takers and master learners. And, we heard from several sellers that the sessions were full of useful and actionable information.
We were posted in the exhibitor hall for much of the conference. This was fine by us since that's where they kept the food and coffee too. 😉 The exhibit hall itself was much larger than last year which kept it feeling open and uncrowded, even at the busiest of times. We appreciated that the layout allowed for easy interaction with conference attendees.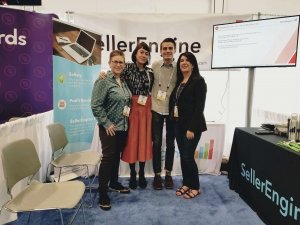 We also checked out the Just One Dime conference that took place at the Hard Rock Hotel on the same days as ASD and Prosper. Going back and forth between 3 conferences was a lot of work and a lot of walking but we found it very valuable. Spotting the differences and similarities among the attendees and sessions helped us learn more about where the industry gaps and needs are for Amazon sellers. And, as always, we'll use that information to inform the direction of our software products and services.
Hot Topics
This year's hot topics were Private Label and Amazon suspensions for both accounts and listings. Luckily for the attendees we spoke with, we offer well rounded solutions for all of these hot topics. And more!
We're already looking forward to Prosper 2019!
Still in need of a jackpot?
Did you attend Prosper, ASD, or Just One Dime in Vegas too?! We'd love to hear your thoughts if so! Share them in the comments. We may even pick one lucky commenter to win a $25 gift card. What do you say? Gamble a little more? 😉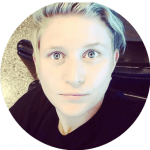 Kate has been helping e-commerce sellers navigate and succeed in Amazon's ever changing landscape for 7 years. From mom & pop stores to multi million dollar brands, she enjoys assisting online entrepreneurs in achieving their goals and breaking records for sales and growth. Kate seeks to share that collective industry knowledge and experience through her writing. In her free time she fronts an indie/pop band, travels the world, surfs, and reads all the books.