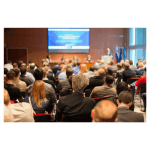 The 2018 Prosper Show in Las Vegas is fast approaching, and we are busy getting ready to make the most of it! Now is the time to start thinking ahead and preparing for the event. We've put together a list of conference tips, based on our past experience, to help you get ready. And to make it the most successful show you can. Check it out!
Pro Tips for Conference Preparation
We've been running the conference circuit for about a decade now. And, over the years, we've learned a lot of helpful tips and tricks through trial and error. Some of which we'd love to share with you to aid in your preparation.
The Micro
Wear comfortable clothes and shoes.

This one is a must. Be prepared for a lot of walking, both at the show and around

balmy Las Vegas

. Make sure you wear clothes you can sit in comfortably during the day. But that will also keep you cool when you venture outside for a walkabout.

Bring your own water bottle.

Staying hydrated is important! Not only due to the Vegas sun, but also walking around inside the show (and

ASD

if you dare), speaking to vendors, and taking advantage of networking opportunities is bound to leave you thirsty.

Snacks!

Sessions are long and, if you're in for the long haul, breaks are few. Load up on some almonds, power bars, fruit, and jerky. The more energy you have, the more you can make of your time at the show. And don't forget the gum. 🙂 That said, Prosper does have some of the best conference food we've seen. And it's included in the price of admission.

Come prepared to take notes.

However you prefer, just make sure you've got enough ink or battery life to take you into the evening hours. We've seen many attendees take notes either on laptop or notepad AND record the sessions. A lot of people also like to take photos of slides that catch their attention for later. We like

Evernote

because it syncs between all your devices. If you run out of power, stop by our booth, #

106,

to grab a smart phone charging cable. For free!

Bring a good stock of business cards. You'll meet a lot of people and exchanging business cards is a quick and easy way to retain contact info. For extra credit, bring a pen and take a few quick notes on the business card of a new contact so you can personalize your post-show communications.
The Macro
Plan ahead.

The show's agenda is available

here

, and the exhibitor map is

here

. Map out your plan of attack ahead of time, so that you can stay on schedule and on topic. Oftentimes, the exhibitor floor will get packed and busy, so knowing where you want to focus your efforts will cut down on some frustration. The same for sessions: the popular ones fill up quick, so if you know where you're going and when, you can get there early and nab a good seat for yourself.

Schedule one-on-ones in advance.

Some exhibitors and speakers may offer opportunities to meet one-on-one at the show. Watch your emails and the websites of companies you're interested in engaging with leading up to the show, and take advantage of those offers. Oftentimes, at the show, the rush of people in the session rooms or exhibitor floor can be overwhelming and hard to compete with. Setting up meetings in advance, where you'll get their full and undivided attention, is a great way to ensure you make the most of that new contact or opportunity. Want to schedule a one-on-one with the SellerEngine team? Click

here

.

Come prepared with a list of questions you'd like answered and/or obstacles you'd like to solve.

If you aren't quite sure who to speak with, it might help to come up with a list of questions you have about your online selling business, as well as a list of problems you'd like to solve. Write down everything that comes to mind and look at it each morning. This will help keep these ideas fresh in your mind, so that you can ask a question that's relevant to a speaker or presentation you just heard. Or, as you're visiting with exhibitors, you can easily spot the services that might help you resolve obstacles in your business workflows.

Put it into practice. Make sure you use your notes and experiences from the show to create actionable items for yourself and your business post-show. Foster the relationships you've made while in Vegas, and put those expert tips into your daily practice, so that you can reap the benefits of being a fully engaged Amazon seller.
We hope these are helpful. If you have some tips or tricks we may have missed, please do share in the comments. We appreciate you stopping by to read our blog, and we hope to meet you in person at ASD and Prosper in March. As always, happy selling!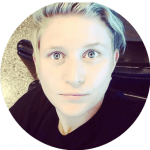 Kate has been helping e-commerce sellers navigate and succeed in Amazon's ever changing landscape for 7 years. From mom & pop stores to multi million dollar brands, she enjoys assisting online entrepreneurs in achieving their goals and breaking records for sales and growth. Kate seeks to share that collective industry knowledge and experience through her writing. In her free time she fronts an indie/pop band, travels the world, surfs, and reads all the books.