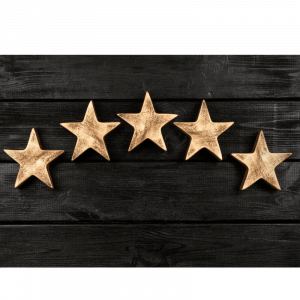 We hope 2018 will be a good year for all third-party sellers, and we have a few ideas to help make it happen. Here's a list of things all sellers can do to improve their Amazon ratings and keep their edge on this increasingly competitive venue.
Ways to Boost Product Ratings
Network Like You Mean It
There's one sure-fire way to make your products more popular to Amazon customers. It involves reaching out to the buyers whose opinions matter the most. These are some of Amazon's most prolific shoppers and reviewers and, if your product is good, they will be happy to promote it.
There's a list of Top Reviewers available on every Amazon venue. Some share their social media information on their public profiles, which means you can contact them directly or friend them and advertise your products to them online. Most can only be contacted via email, as shown below.
But whichever way you choose to contact top reviewers, remember never to mention positive reviews, even if you develop a long-term business relationship with them. Soliciting favourable reviews, whichever way you phrase it, is forbidden.
Spot Those Fake Reviews
Does it seem like negative product reviews are piling up? There's an undisclosed limit to the amount of non-verified reviews a user can submit every week, and the count starts on Sunday. So, if you get a disproportionate amount of negative reviews without a Verified Purchase badge over the weekend, start reading them.  
Bear in mind that non-verified purchases are not necessarily bogus. They could have been posted by people who legitimately bought the items elsewhere, or straight from Amazon using a coupon. Amazon will only verify full-price purchases (excluding media, where the Verified Purchase badge doesn't apply).
But verified purchases can also be fake, as this guest post revealed. Also, returned items can still be rated. So check your returns, even if they're fulfilled by Amazon.
A single negative review can affect sales drastically, even if the phrasing is nonsensical or bot-like, because some customers only check the star rating before they buy.
Keep Your Eyes Peeled for Downvoters
It's not unheard of for sellers to downgrade a competitor's positive product reviews by upvoting all the negative ones. Monitor your best-sellers, and if you see any suspicious activity or patterns, then report it to Amazon.
Gain the Support of a Top Blogger
Much like Amazon's top reviewers, bloggers are people whose opinions will influence sales. But there's one important difference: bloggers have a following of their own that you can tap into. So, you may see a spike in sales following a good blogger's review, but the hype won't last long.
Also, top reviewers are people who buy your product at full or discounted price and expect nothing in return. Bloggers don't expect to buy it, or post a review on Amazon, or promote the product on any venue other than their own blogs. They may also expect a hefty reward.
Time Product Review Requests Based on Product
Depending on the type of product you're selling and how fast a customer is likely to use it, you'll want your review requests sent in a specific time-frame. Bear in mind some items may have been gifts, and it could take more time for the buyers to review them, if they do it at all.
So, time your request based on when your buyer is likely to use your product. It could be straight out of the box (tablet screen protector), within a few days (ink cartridges), or after a month (food supplements).
Set Up a Tester Club
If you can't find ways to promote your products online within your budget, you're free to set up your own product testing group. As long as you don't know the testers, you don't expect them to review your products, and you make it clear from the get-go that there's no such obligation, then there's nothing to stop you.
Know It's All Part of the Game
When you have negative reviews that you don't feel your product deserved, don't take it personally. Some reviewers are generally disgruntled, while others have an agenda of their own. It's not unheard of for dishonest reviewers to try to offset a string of incentivized 5-star Amazon ratings with a negative one. But you can always leave a comment and try to sort things out.
Also, some reviewers can resort to other tricks. They can follow a competing reviewer's activity, and downvote reviews en masse. Keep an eye out, and if you see something suspicious, contact Amazon.
Ways to Improve FeedbackA performance rating on a scale of 1 to … More Score
Tackle the Causes of Negative Feedback
Your feedback score is, in theory, a reflection of three things: how speedy your deliveries are, how effective your customer service is, and how accurate your listings are.
Delivery issues and lost orders are generally down to the carriers. Many will reimburse you for misdeliveries and lost parcels, at least once a year. Make sure you prepare a report on their performance and use it to strike a better deal. If not, then look around for new carriers.
Cancellations. Avoid running out of stock before an order is placed. If you sell on several channels and your software takes too long to update stock quantities, look into ways to shorten that lag. Then review your cancellation email templates, and see if you can find ways to entice the customer to try a similar product, or to accept a discount on a future order.
Listings. Browse your product pages and see what tends to come up in the 'Customer questions and answers' section. Those questions will point to important features or specifications that you want to include in your titles and your bullet points. If not, then you should mention those aspects in your product description. Also, rather than simply listing the features, try to add exciting taglines like 'enjoy music on the go', 'stream seamlessly', etc.
But most importantly, review Amazon ConditionProducts can only be listed on Amazon if… More Guidelines regularly and apply them. If, after reviewing the guidelines, you're still not sure which condition an item is in, opt for the worse of the two. And if you feel you didn't deserve negative feedback because the description was accurate, then point this out to the customer.
Follow Up With Buyers
Not everyone reads Amazon's automated emails. So, check your feedback regularly. If it looks like Amazon ratings have dried up, then send your customers personalised emails one to two weeks after delivery. Include feedback links, the company logo, and any other information that sets you apart (eco-friendly, vegan, etc.).
Send Lead-In Emails
Before you send out follow-up emails with feedback links, you need a lead-in. That way, you'll pick up on a disgruntled customer before any damage is done. Simply send an 'everything alright?' email to your buyers a few days after delivery.
Answer Your Emails Quicker
It goes without saying that the sooner you reply to customer emails, the less likely buyers are to give you negative feedback. If you spend too much time trying to increase your feedback score, it could be worth taking a different approach. Get an extra pair of hands, and focus on preventing negative feedback rather than retracting it.
Spruce Up Your Image
Amazon customers expect nothing but the best, and this reflects in your feedback score. They won't shy away from downgrading your Amazon ratings for little mistakes, and this will gradually affect your brand image.
It could be things like typos in your email, in your packaging inserts, or on the product box. It could also be an old price sticker or an imperfect seal on their product. Whatever it is, take it in stride, be thankful, and sort it out immediately.
Time Feedback Requests Based on Delivery
As with product reviews, you want your feedback requests sent at a specific time. It all has to do with how soon you deliver the product you're selling, because a shopper's feel-good vibe wears off quickly. So, ask yourself when you'd leave feedback if you were in the buyer's shoes, and act accordingly.
We hope you've found a few takeaways from this list of tips to boost Amazon ratings in 2018. If you find yourself in need of extra help, don't hesitate to get in touch with our Amazon Account Monitoring team.
Melanie takes an active interest in all things Amazon. She keeps an eye on the latest developments and keeps Amazon sellers up to speed.