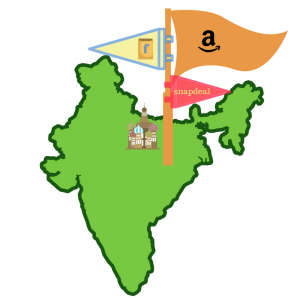 Ever thought about expanding internationally? Or more specifically, have you ever thought about selling your products in India using FBA services? With the launch of Amazon Prime in India, your products could reach more buyers than ever before. Still, no one should jump into this unprepared. Here's what you need to know…
India, the world's most populous democracy, is a country that attracts a great deal of interest from foreign investors and multinationals. Over the past year, India has lived up to the projections put forward by The Financial Times, overtaking China and the USA to become the country attracting the most amount of FDI (foreign direct investment). The ecommerce sector is especially attractive, since this has been untapped territory, for the most part, up until 2013.
Three contenders, Amazon, Flipkart and Snapdeal, are battling it out for the biggest slice of the retail pie. They have the highest brand equity of all e-tailers in India, according to a recent statement by Nielsen India. But as they begin to realize their e-commerce potential, the three contenders keep getting into trouble over local FDI guidelines.
All three companies are allowed to carry out B2B trading, but they're not authorized to sell directly to consumers (B2C), to advertise to them, and more importantly, to offer them discounts. Following a wave of Independence Day sales ads directed at the general public, their operations are now kept under the scrutiny of the Indian retail watchdog, the CAIT (Confederation of All India Traders).
Amazon must try to gain as big a market share as possible, as long as it's below 25%. That's because no single foreign company in India is allowed to have more than a fourth of all online sales. Recent data puts Amazon India in second place with a market share of up to 24%, but it doesn't mean the race isn't still on.
There are many similar FDI guidelines, like the one forcing manufacturers to buy at least 30% of their manufacturing materials locally. But true to its claims to be the new frontier for e-commerce growth, India is now trying to relax the rules. Should it succeed, it could fulfil yet another prophecy – Morgan Stanley's forecast that online sales would grow from the $11 billion recorded in 2013 to $137 billion by 2020.
Amazon India also ranks second after Flipkart in terms of active monthly users. Still, Flipkart has a much greater following and an even bigger stake in India's online fashion market after buying Jabong, according to The Times of India. So, this is a tight race.
To set up shop on Amazon.in, simply sign up for a seller account here, stating your company name, bank account and tax details. Amazon India is currently open only to sellers who own a local business, but there are workarounds for those who don't operate locally.
At the moment, Amazon India's third-party sellers are only allowed to deliver to addresses in India. However, they are allowed to export and receive payment from abroad, but they first need to contact HSBC to apply for a Foreign Inward Remittance Certificate (FIRC). Moreover, thanks to the Global Selling Program, many Indian sellers can now list on Amazon.com and Amazon.co.uk.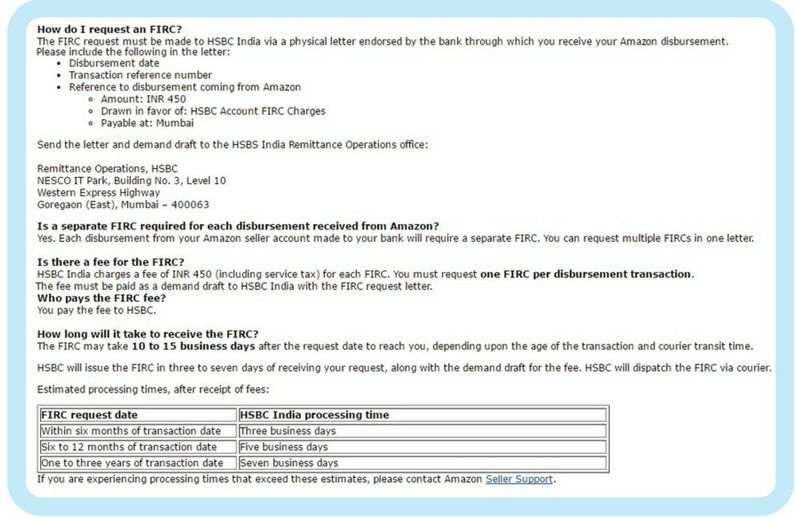 A TIN/CST/VAT number is required for those selling taxable goods. Most products sold on Amazon.in are taxable; but some are tax-exempt. Check tax requirements for different local municipalities before starting a business. Here are some examples for Delhi, Uttar Pradesh, Maharashtra, Karnataka, Gujarat and Tamil Nadu.
One thing to bear in mind is the fact that there are different tax rates in different jurisdictions. Precious stones and metal fall into the tier 1 category with a VAT rate of 1% to 2%, while tier 2 tax is levied on cotton, coffee, medicines and other bare necessities. The sale of all other products generally incurs a tax of 12.5% to 20%.
For a more in-depth analysis of the taxes, fees and charges that apply to manufacturers, traders and Amazon sellers in India, please stay tuned for our upcoming blog post on this topic. To share or ask for advice on international expansion, please feel free to contact our Services Team.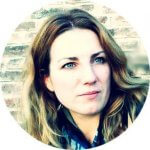 Melanie takes an active interest in all things Amazon. She keeps an eye on the latest developments, and keeps Amazon sellers up to speed