Reading Time:
2
minutes
You're Going to Love This!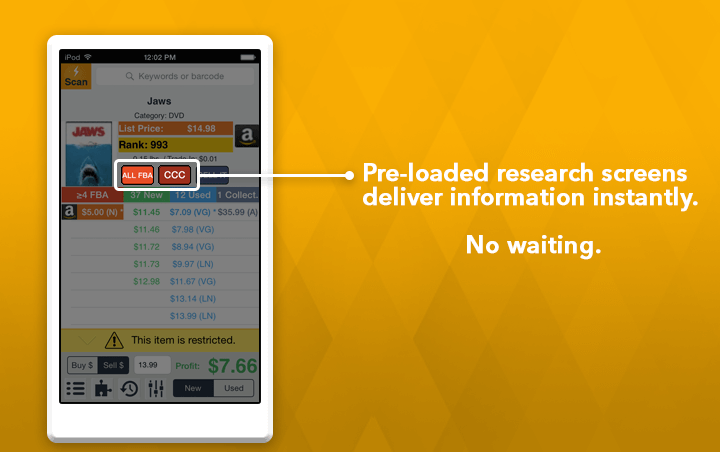 If you've been using the latest version of Profit Bandit, you've probably noticed the new All FBA and CCC buttons on Profit Bandit's home screen.
Have you tapped them and been amazed at how fast the item's CamelCamelCamel listing and FBA offers page appeared?
Keep reading to find out more.
Instant Loading with No Waiting
Here's our secret: When you scan an item, Profit Bandit not only looks up the item on Amazon, it preloads the FBA offers page (so you can see information every FBA offer for the item you just scanned) and the item's listing on CamelCamelCamel.
That means by the time you're done reviewing the item's Sales RankThe sales rank of products on Amazon ind... More, competition and other information on Profit Bandit's home screen, those pages are already loaded and ready for you to review.
Take Your Research to the Next Level
We've talked about CamelCamelCamel before, but I can't stress enough how valuable it can be when making sourcing decisions. Here's why:
Check out the historical Sales RankThe sales rank of products on Amazon ind... More graph. You'll be able to see whether the item's gaining or losing popularity, as well as identify other trends, like whether it's a seasonal seller or a flash in the pan.
Review the historical pricing information. See how other sellers, including Amazon themselves have priced the item over time.
How Much Data am I using?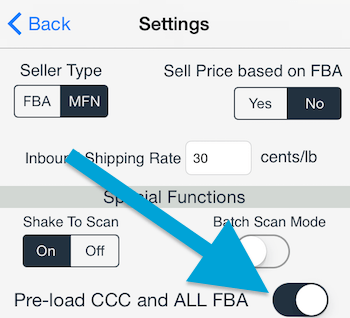 This feature does use more data than just scanning. You'll be able to scan around 3000 items per gigabyte of data, if you're using these pre-loaded research screens. If you're not worried about data usage, great, stop reading here and go out and start scanning!
If you are conscious of how much data you're using, you can disable the pre-loading of CamelCamelCamel and FBA Offers in Profit Bandit's Settings.
You can toggle this off and on whenever you like.
And remember, even when it's turned off, you can still tap those buttons to see that info, it'll just take a few seconds to load.
We hope you're loving instant product research in Profit Bandit!