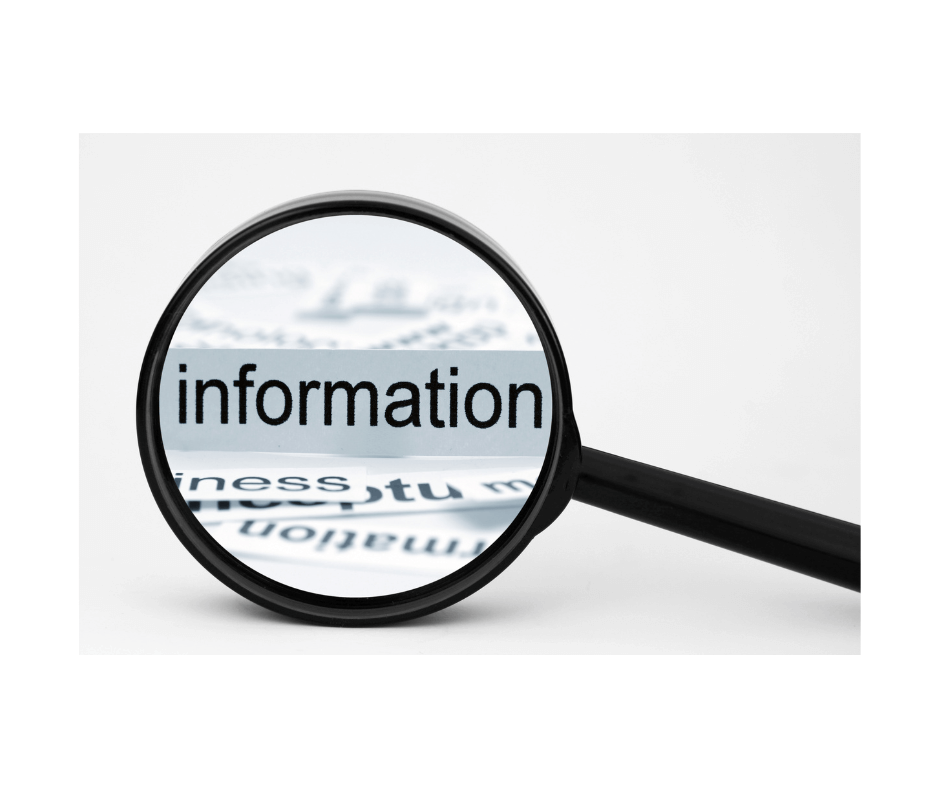 Nearly 2 months after it came into law, the INFORM Consumers Act is causing a stir. So, how has this new push for compliance on Amazon managed to ruffle the feathers of so many US-based Amazon sellers? Find out what to do to protect your account while also supporting consumer protection on Amazon.
You may remember an earlier post on this blog titled "INFORM Consumers Act: How It Affects Amazon Sellers in the USA". In it, we discussed S.936. It's a bill that requires online retailers to be transparent about their identities. Also, it asks them to provide their banking and fiscal information.
The law also requires platforms like Amazon to vet their sellers. But, as explained on the official Amazon blog, vetting practices were already in place. In fact, Amazon claims its ML technology decreased bad actor attempts to open new accounts from 6 million to 800,000 in just 2 years!
Still, the law is the law. As such, Amazon must ask high-volume sellers to provide up-to-date business information, and then verify and disclose it to buyers and the authorities upon request. To recap, as of June 27, 2023, US Sellers may see emails or pop-ups like these in their Seller CentralAmazon Seller Central is a portal or a h… More accounts: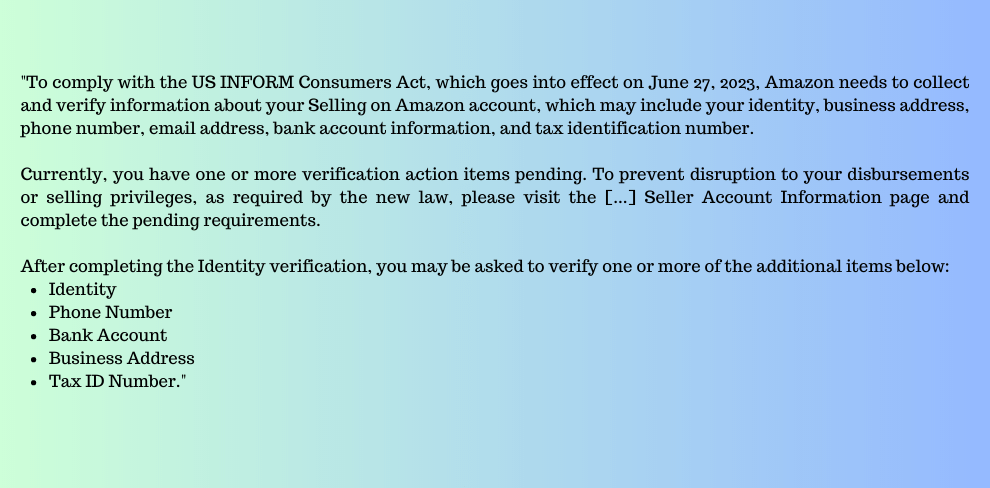 Amazon Sellers Affected by INFORM
The INFORM Consumers Act help page on Amazon states that all high-volume sellers are affected. By "high-volume" it means those who sell 200+ New/Unused items and make $5,000+ in gross revenue. But only if it's over a continuous 12-months out of the last 24 months. Still, that's most active sellers.
Information Amazon Sellers Must Provide
To comply with the law and their BSA, sellers or the individuals authorized to act on their behalf must provide their business information. Then, they must also update it every year. Documents should be up to 50MB in size, in a supported format, and in high resolution. Amazon may ask for your:
Seller name.
Government-issued ID.
Business address.
Bank account information.
Tax/taxpayer identification number.
Working email address and phone number.
The Seller Vetting Process
Aside from the usual interactions via email or Seller Central, sellers may go through extra checks. As EF explains, Amazon may also try take some of these steps to verify your identity and confirm the validity of your documents:
Telephone. Amazon will call you, the seller, on the phone number they have on record.
Text. Amazon may send SMS text messages on the mobile number on record.
Mail. Postcards may be sent to the address on record with unique verification codes.
In-person interviews. IPIs are carried out through video chat.
Risks of Non-Compliance with the INFORM Bill
Violating the INFORM Consumers Act is treated as breaking a Federal Trade Commission (FTC) rule. As such, the following action may be taken against Amazon and/or sellers who don't comply:
Amazon may send sellers written notice of non-compliance with a 10-day reply deadline.
Amazon may suspend sellers for withholding their information.
Amazon may become liable for a civil penalty of $50,120 for every violation.
Amazon may risk litigation with a State Attorney General.
Problems with INFORM Vetting on Amazon
There were complaints of teething troubles on the Seller Forums as soon as the law came into effect. Things haven't improved much, based on Modern Retail reports. The media brand points to a series of complications:
Rise in suspensions. These may be due to data discrepancies, verification issues, and product authenticity concerns.
Difficulties getting through the vetting process. Sellers are grappling with new forms and treading on unfamiliar terrain.
Strained communication channels. Sellers are having trouble learning who to contact and how to appeal.
General anxiety. This is said to be caused by vague instructions and processing delays.
Tips on Complying With INFORM on Amazon
It's all been said before, but it bears repeating. Amazon can't share your personal name or residential address. So, privacy isn't an issue. The best thing to do is to try to comply with the law and prevent unnecessary delays and suspensions. Here's how to handle your INFORM requests:
Update your Account Information in Seller CentralAmazon Seller Central is a portal or a h… More as soon as there's a change.
Filter your Amazon emails and flag up INFORM requests.
Designate verifications to a trusted employee or legal representative.
If you use virtual addresses or personal bank accounts, change them.
For identities used without permission or fraudulently, seek help from a seller attorney.
Time your ID renewals well in advance of the annual confirmation deadline.
If you don't yet meet the criteria, be ready for impending verifications.
Check that your INFORM requests are genuine and they link to your Seller Central dashboard.
Watch out for email spoofing and report suspicious emails to Amazon.
Contact Seller Support with questions about vague, irrelevant, or duplicate requests.

The INFORM Consumers Act is yet another challenge US sellers must face. Clearly, there is room for more transparency and support on Amazon's side. But the new bill could serve as a catalyst for positive change in terms of consumer trust, so there's every reason for Amazon and sellers to work together on this.
Don't miss the chance to get fresh Amazon News and Amazon expert insight articles right when we post them directly in your inbox.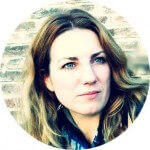 Melanie takes an active interest in all things Amazon. She keeps an eye on the latest developments and keeps Amazon sellers up to speed.