Reading Time:
4
minutes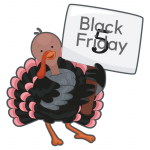 Let's talk turkey – Turkey 5, that is. Market dynamics are changing. Here's how to get ready for Cyber Monday and Black Friday on Amazon this year.
Cyber Monday & Black Friday on Amazon
Over the past few years, Amazon has dominated Black Friday traffic – and sales, presumably. With 7.14 million transactions on Amazon.com alone in 2017, it's safe to say that Amazon has Black Friday in the bag. So, if you sell on Amazon the day after Thanksgiving, you could rake it in this year.
But don't put all your eggs in one basket this Nov. 23. Most people only browse through offers on Black Friday on Amazon. According to Adobe Analytics, many end up buying over the weekend or later. So, to make the most of your inventory, you need to keep selling after Black Friday.
Let's put things into perspective. Around $6.59 billion were spent online on Cyber Monday last year – more than on any Black Friday or Prime DayPrime Day was initially a one-day sales ... More event. Amazon.com accounted for an estimated 55% of all those transactions. The take-away? Don't sell out of your best products before Cyber Monday.
What's Turkey 5?
Good question. Come to think of it, what's Black Friday? Black Month is more like it. Everyone knows Amazon brings out some of the best deals before Black Friday, and then the offers keep rolling in all the way up to the holidays.
You probably remember last year's Black Friday Countdown Event. Then came Cyber Monday Deals Week. And after that there was the Electronics Holiday Gift Guide; a smorgasbord of bargains.
Over the years, Black Friday, Thanksgiving weekend, and Cyber Monday seem to have morphed into a five-day sales event that Amazon likes to call 'Turkey 5'. You can think of it as the pre-holiday sales peak period. Worldwide Consumer CEO Jeff Wilke himself claimed customers ''shopped at record levels'' on Amazon on these specific days in 2017.
So, the question this year isn't if you're ready for Black Friday, but rather for Turkey 5. Because this five-day stretch is likely to dwarf Prime Day sales, which raked in $4.19 billion in 2018, according to Statista.
Getting Ready for Black Friday and Beyond
Let's talk turkey. Here are 7 things you should do to build up momentum and keep it going this Black Friday on Amazon:
Advertise with Intent
BestBlackFriday.com names Nov. 1 as this year's official advertising kick-off date. But as marketing analysts RetailMeNot.com claim, most Americans planned to start shopping earlier than both this year and in 2017. So, the sooner you start advertisingAdvertising is a means of communication ... More for Black Friday the better.
All ad solutions were recently consolidated into the Amazon Advertising webpage, as mentioned in our previous issue of the Seller Digest. But the advertising tools are basically the same. For an overview of ad tools, targeting, optimization techniques, and keyword tips, it may be worth reading the Advertising for the 2017 holiday season guide. It includes links to Seller University tutorials, webinars, and a handy timeline.
Go All Out
Stock up on best-sellers quickly and double up on coffee. Your inventory should arrive at fulfilment centres by the start of November. Come back to this article for Amazon's official FBA 2018 Key Shipment Dates Calculator to find your inventory cut-off dates. We'll share it as soon as it's available, but in the meantime, here's last year's checklist.
Think Mobile
Mobile devices generate more sales on Turkey 5 than desktop computers. There were half a million Amazon app downloads on Turkey 5 in 2017, according to Retail Dive. So, you need to familiarize yourself with the app and optimize your product images and your descriptions for smartphones.
Try Something New
Use QR codes to liven up your mobile-friendly emails. Design SMS marketing solutions to encourage regular webshop clients to do their mobile shopping on Amazon. Find trending items on Amazon SparkAmazon Spark is a feed that can be acces... More that you can use to revamp your Amazon storefrontAmazon Storefronts is a way for small an... More. Join closed seller groups on Facebook and other social platforms. Browse Seller CentralAmazon Seller Central is a portal or a h... More Forums to keep up with announcements and find workarounds for your issues.
Save Some for Cyber Week
If past experience is anything to go by, then Cyber Week will be the busiest e-commerce event in history. Running out of stock before Nov. 30 isn't necessarily a bad thing, but how early can you afford to sell out? On the flipside, you may be able to sell extra inventory before the holidays, but you need to factor in higher Q4 overheads and FBA long-term storage fees.
Assess Your Options
Black Friday is a global phenomenon, so if your products are more likely to sell on a different venue or in-store, do your research before you start shifting inventory. FBA Export and the European Fulfilment Network are great ways to venture into international marketplaces, but you may need time and assistance to set everything up. In the meantime, close dormant accounts and get the Seller Performance Team's approval before you set up secondary accounts, partnerships or structural changes to your company. More on this here.
Mind Your IPI
The last thing you need mid-November is a storage limit notice. So, make sure you raise your IPI before you start stocking up. If you've already had your storage limits reduced due to poor IPI score, then any new shipments may be blocked through to the new year, unless you've removed your excess stock and paid your overage fees.
Expect the Unexpected
Outages do happen, especially on Black Friday, as this Catchpoint article shows. So, be prepared. If you own a webshop, be sure to match your Amazon price without undercutting It's a technique many sellers u... More it, and make your website stand out on Cyber Week. Monitor your listings and stay on top of the news. That way, in the event that there's a lengthy outage, you can direct your regular customers back to your website using social media or SMS marketing.
That's a wrap for now, but please follow our blog for the follow-up post on how to get ready for Black Friday on Amazon. We'll be sharing tips and insights on cost-effective advertisingAdvertising is a means of communication ... More techniques, the Amazon app and browser add-on assistant, and many other tools to help make this your best Black Friday yet.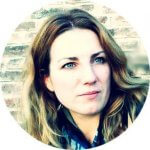 Melanie takes an active interest in all things Amazon. She keeps an eye on the latest developments and keeps Amazon sellers up to speed.