Editor's Note: Originally published on Feb. 11, 2015, updated on Jan. 30, 2023.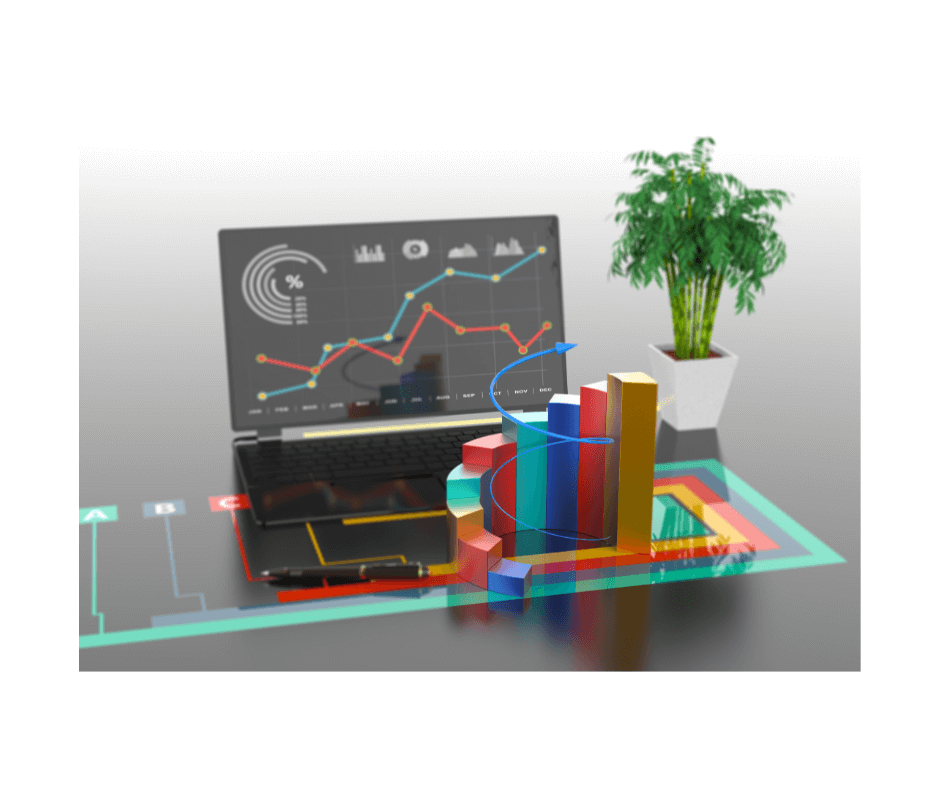 Wondering how well you're doing as a seller on Amazon? Look no further than your Amazon seller reports in Seller CentralAmazon Seller Central is a portal or a h… More. But if you're new to it all or you're back in the game after a hiatus, you may need a refresher course. So, let's take a look at these Amazon BusinessAmazon Business is Amazon's wholesale … More Reports, what they're for, and how you can get the most out of them.
Seller Central, the website sellers use to monitor their sales activity, keeps changing. Over the years, the look and scope of Amazon Business Reports have also changed. Luckily, there are a few brief Amazon Seller University video guides like the one below. But let's see how you can access your Amazon seller reports and use all this valuable information with real-life examples.
Overview of Amazon Business Reports
Sales Dashboard
When you're ready to explore your seller reports, go to: Menu > Reports > Business Reports. This will take you to the Sales Dashboard, a snapshot of your sales metrics for the day, week, month, year-to-date, or time frame of your choice. It refreshes once an hour.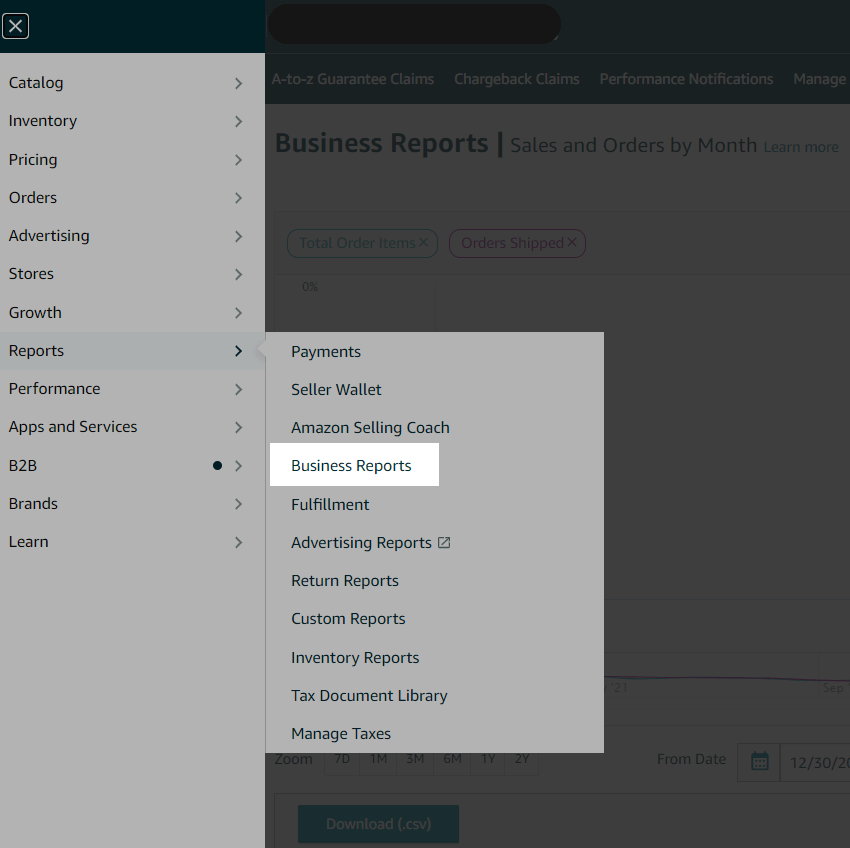 It allows you to find trends and compare sales seasons. The Compare Sales section sets two sets of values side-by-side: today's sales and order performance versus the same figures from yesterday, the same day last week, and the same day last year.
If you're interested in a specific product category from your inventory and the type of fulfillment that works best with it (MFN/FBA), this dashboard can help. It enables you to select factors like fulfillment method and the type of buyer (business/ private individual) for your sales analysis.
Business Reports
On the menu to the left of the Sales Dashboard, you'll see a tab titled Business Reports. It includes several seller reports grouped by date, ASIN, and other factors. Let's look at the most important Amazon seller reports below.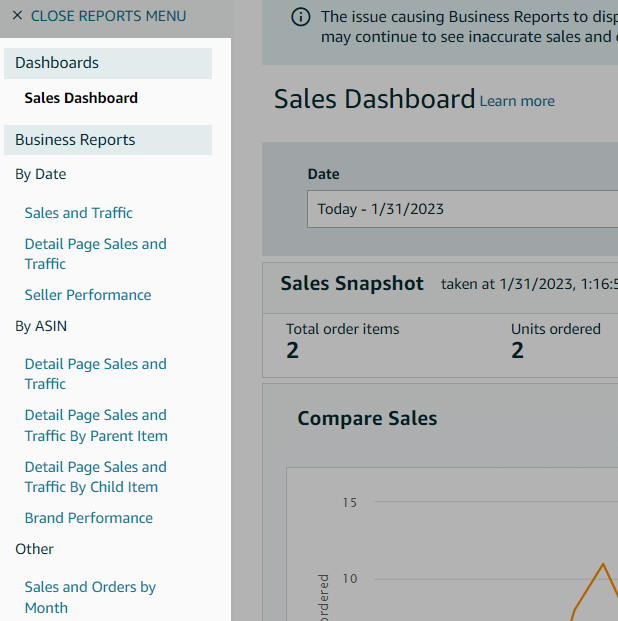 By Date
The Sales and Traffic report is a table that includes sales figures like units ordered, order values, average gross sales per order, and average units per order. There's also an average offer count, which you can correlate with the average selling price to see how price changes affect inventory levels and sales.
As seen in the walkthrough video above, this report shows the number of sessions too (i.e., the number of unique customers that visit your detail page per day). Better still, it also comes with a graph. Click any column icon to add it to the graph, remove it from the report, or read its description.
The Seller PerformanceA measure of how well Amazon sellers are… More report is a reflection of your customer satisfaction levels. It shows the number of units that were refunded, your negative feedbackA performance rating on a scale of 1 to … More, claims and more. You can sort these figures by week, month, or custom dates.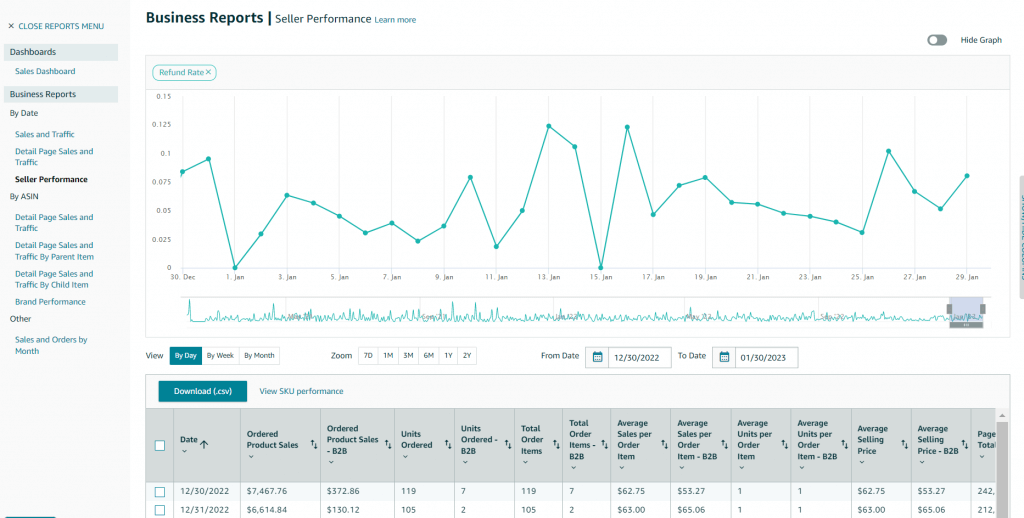 By ASIN
"By ASIN" reports include pretty much the same information as "By Date" reports, but it's grouped based on ASINs. You can choose information pertaining solely to parent ASINs, child ASINs, or to all product variations at once.
Let's take, for example, the report titled Detail page sales and traffic by child item. As shown in the intro video above, it displays page view metrics. So, it counts the number of times a customer views the detail page. Also, like the Sales Dashboard, it can show custom date ranges.

This report can come in handy too. It enables you to see product variations with the most unit sales. Simply sort the Order Product Sales column in descending order. It also shows you which items are the ones customers find most often in their searches. Just sort the Page views column in ascending order.
Note that this report doesn't factor in returns or refunds. To access this data, you must use the "Show/Hide columns" menu to the right and select the check boxes available for Units refunded, Refund rate, and Claims amount. Remember to click Save!
Other
The Sales and Orders by Month report includes gross product sales, products shipped, units shipped, orders shipped, and other data about your sales and orders. It serves as a good overview of your sales for the chosen period.
Note that other reports, such as Listings with Missing Information and "product and inventory opportunities" (in the Selling Coach menu) are no longer found under Business Reports. For instance, the Selling Coach dashboard is available in Menu > Reports.

Amazon Business Reports Tips
If your page views are low, consider offering coupons and running ads.
If page views are high, but sales are low, check the price, description, images, and fulfillment.

Then check if you have the Buy BoxThis refers to the situation where a sel… More and you're a Prime seller.

If your Featured Offer percentage is low, manually reduce the price to win the Buy Box or use an automatic pricing tool.
If your page views are high, sessions are high, but sales are still low and you don't offer Prime, consider switching to FBA.

Review your sales regularly to identify trends and anticipate seasonal sales (e.g., Prime DayPrime Day was initially a one-day sales … More).
Check stock levels and make sure you're never out of stock to keep Buy Box, ads, and sales up.
Account for virality; sales for a product that's just gone viral can be volatile.
Keep checking that you have the Prime badge, Buy Box ownership, live ads, coupons on offer, and a trusty automatic repricing tool like Sellery.
Review your performance, account healthAccount Health is an Amazon page which c… More, and feedbackA performance rating on a scale of 1 to … More often.
General Tips
Bookmark the report pages you use most often in your browser.
Paste your favorite URLs in your personal notes and files.
Regularly download the .csv files for future reference.
Customize time frames and columns for each report to suit your business.
Remember that reports won't usually display data older than 2 years.
That pretty much covers the basics of Amazon BusinessAmazon Business is Amazon's wholesale … More Reports. We hope that your main takeaway from our run-through of seller reports is that it pays to review your sales regularly. But it's just as important to take advantage of every opportunity to boost sales with the right repricing software and strategy.
Don't miss the chance to get fresh Amazon News and Amazon expert insight articles right when we post them directly in your inbox.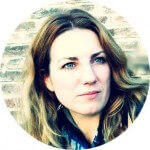 Melanie takes an active interest in all things Amazon. She keeps an eye on the latest developments and keeps Amazon sellers up to speed.