Today we're going to take a close look at your Amazon BusinessAmazon Business is Amazon's wholesale ... More Reports. We'll show you how to access Amazon's Business Reports, the important information they contain, and some tricks you can use to get the most out of them.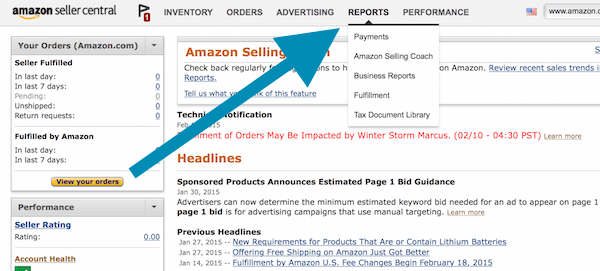 Keep reading to learn more.
 Dashboards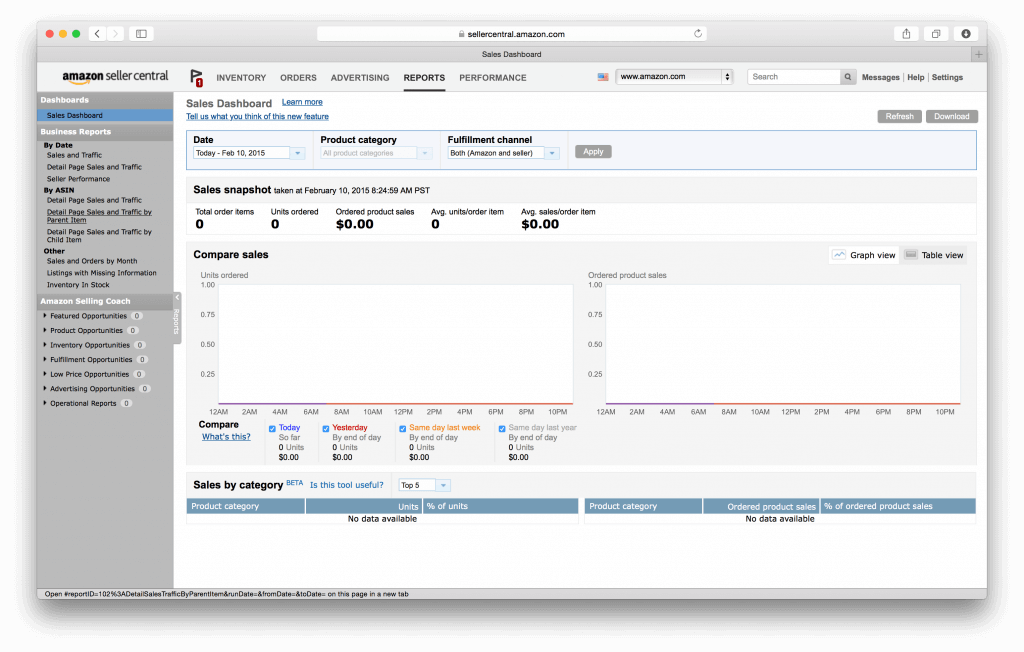 This dashboard shows your sales for the current day, week-to-date, month-to-date and year-to-date. Or you can choose your own time range and even compare it to a time range from the previous year or same day last week and so on. This is a great way to understand trends in your sales over longer periods of times.
You're also able to select the sales for a specific product group in your inventory or  MFN/FBA sales. Now you can can see which product group has the greatest sales and determine which fulfillment channel is best for each type of product.
At the bottom of the page you'll see Sales by category. Here you'll be able to choose between the top 5, top 10 and top 20 product groups in your inventory. You'll see sales by units on the left-hand side and gross on the right-hand side. This will help you see if any categories sell lots of units with little gross or the other way around. This can help you make decisions on pricing strategies and can even help you decide whether to stop listing an item, if the total sales aren't sufficient to make up for you labor costs.
Business Reports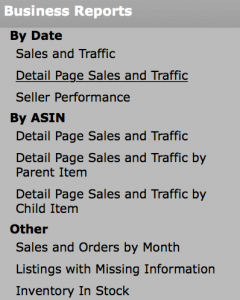 By Date
Let's start by looking at Date & Sales and Traffic reports. Here's just some of what you can find.
Gross sales–Units ordered: The number of items ordered.
Orders placed: The total number of orders.
Gross sales per order: Average gross sales per order.
Units per order: Average units per order.
Average offer count: This shows you how many orders/items you've sold per session for the selected period. You should correlate this with the Average selling price and Average offer count to see if a rise or a drop in sales is related to your prices going up or down or with a larger/smaller inventory or even both.
In the Seller PerformanceA measure of how well Amazon sellers are... More reports, you can find the number of units that were refunded, your negative feedbacks, A-to-z claims and more.

Use the pivot button to switch between date reports and reports by SKU performance.
By ASIN
The ASIN reports include the same information as the Date reports, but they organize the information on a per-ASIN basis. You can also choose to view both parent and child ASINs, as well as only parent or only child ASINs.
Other
The Sales and Orders by Month report includes gross product sales, products shipped, units shipped, orders shipped and other data about your sales and orders. It serves as a good general overview of your sales for the chosen period.
The Listings with Missing Information report can be a huge help in cleaning up your Amazon inventory. Use it to you get a clear view of any incomplete listings you have. You'll find anything from incomplete descriptions to other missing details that make your products less visible to customers.
By regularly checking this report and fixing the issues you see, you may boost your sales.
General Tips
Remember that you can use different periods of time for each report and can see data grouped by day/week/month.
Don't forget that all reports are downloadable in CSV format.
The data for reports are generally available for up to two years.
You can customize the columns you see in each report.
Amazon Selling Coach
 Product Opportunities
High demand products with few listings
High demand products similar to your listings
Products with high customer interest
Popular out of stock items
These reports help you decide which products are popular on Amazon so that you can source and start selling them.
Inventory Opportunities
Restock these Low Inventory items
Restock out of stock items
These two reports show you the items you're listing (or that you've listed in the past) that are popular at the moment so that you can try to replenish your stock. The Fulfillment Opportunities reports show the same data but for your FBA listings.
Looking to learn more?
Want to learn more about Amazon's Business Reports? Contact us at SellerEngine Services. We're here to help.