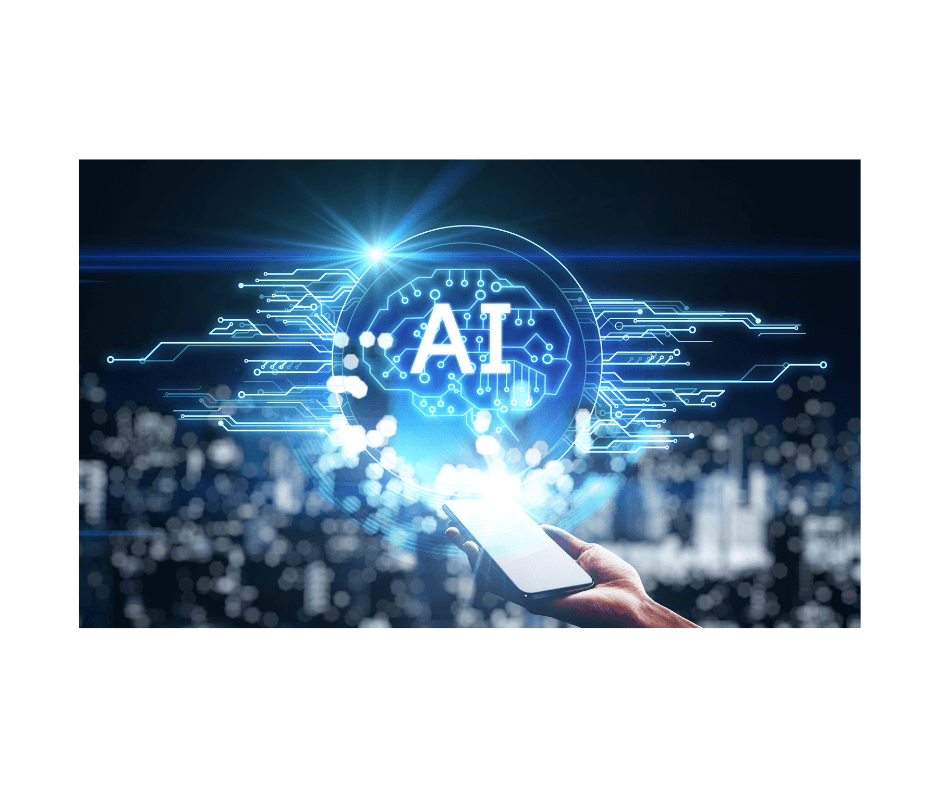 With so many AI e-commerce tools popping up every day, it's easy to get caught up in all the hype, especially since many sellers are already leveraging AI tools for Amazon listings. But bear in mind that there are some drawbacks to using AI copywriters and other such tools.
AI e-commerce tools are springing up like mushrooms after the rain, each claiming to be better than the last. But are they, though? Let's go through some of the many types of AI tools for e-sellers, and talk about the pros and cons of using AI tools for Amazon listings and product descriptions.
What Is AI?
IBM defines artificial intelligence (AI) as simulating human problem-solving and decision-making processes with computers and machines. But in practice, it's creating, classifying, and suggesting new content (e.g., text, audio, video, imagery, code, and synthetic data) from massive amounts of existing data.
What Do AI Tools Do?
AI tools can incorporate a variety of technologies aimed at object recognition, speech recognition, machine learning, machine translation, natural language processing, and knowledge mining. This will determine what they can do, how quickly, and how accurately.
Millions of people use generative AI tools like ChatGPT and DALL-E 2 to create poems, essays, artwork, logos, book covers, wallpapers, illustrations, glossaries, ads, and more. Here are 10 of the most common fields of application for AI tools, along with some examples:
What Types of AI e-Commerce Tools Are There?
Online retailers use AI to optimize many of their internal processes, including product information management. AI helps them implement improvements at scale. Here are 10 of the most common fields of application for AI in the world of online retail, along with a few examples of relevant AI tools:
10 AI Tools for Amazon Listings
Of the many AI tools out there, some are specifically designed for Amazon sellers. But beware of those who claim to offer AI tools for e-sellers on Amazon without backing it up. Plenty of tools are algorithmic, such as our own repricer BuyBoxBuddy. But very few are truly 'AI'. Here are some that actually make use of AI technology:
Anyword is a versatile AI copywriting tool. It supports 28 languages and enables you to generate multiple copies, view their score, predict conversion rates, and even earn credits on the go.
CopyMonkey is a product description and bullet point generator, which can also be used to optimize listings. It displays color-coded edits and it supports drag-and-drop keyword entry. CopyMonkey also issues a listing score for every copy and keyword suggestions during the audit stage. Other features include: omnichannel catalog import, competitor analysis, keyword search frequency, click/conversion rates display, and APIs. It may also provide access to A/B testing and sales-based optimizations soon.
DemoUP Cliplister is an AI-powered image delivery and content management tool. It enables brands to create product videos, reviews, and 3D/AR models and distribute to 300+ retailers. It also helps retailers access a database of existing media from 3,000+ brands, saving bandwidth and storage space in the process.
Jasper generates product descriptions and bullet points, as well as various other types of content. It comes with its own Facebook user group, a content improvement tool, and a 5-day free trial with 10,000 credits.
MerchantWords offers an Amazon keyword optimizer called Power Listings. It uses data from 10 Amazon venues to help you create listings in 5 languages by drilling down to the ones with the right search volume. You can use these for your titles, bullet points, descriptions, and backend terms.
Sellesta is a title, features, and descriptions generator. It also scores your listings, finds keywords, offers AI-powered optimization suggestions, automates listing changes, keeps an eye on competitors, and analyzes your reviews to gauge their tone and pain points.
Sheet AI uses the GPT3 keyword context classifier in Google Sheets. It uses words you enter in your spreadsheet to classify reviews. It can also generate answers, insert images, summarize text, and personalize your templates from within tables.
Shopia features an Amazon copywriting and SEO tool that comes with a 7-day free trial. It accepts listing titles and ASINs. It also looks to competitors for keywords, generates descriptions and bullet points, and scores your listings.
Simplified offers a free web-based generator for Amazon titles, descriptions, and bullet points. It produces up to 6 versions of required text. You can choose a creativity level from repetitive to imaginative.
WordKit is a web-based tool. It supports 9 languages, offers a no-frills free version, and comes with a very basic editor and keyword list generator. However, it's far more generous with its listing capacity and far cheaper than some alternatives.
Pros and Cons of AI Tools for Amazon Listings
When it comes to AI e-commerce tools, it can't hurt for Amazon sellers to try to optimize their listings with secure and reliable software. AI e-commerce tools can serve as a starting point for new product listings. They can also help overcome some stumbling blocks, as well as reduce costs.
However, sellers shouldn't underestimate a buyer's ability to spot AI generated content. It can be vague, riddled with errors, inaccurate, and bland. As more sellers rely on it, it will become even easier to spot recycled text. It will also be even harder for brands to find content that matches their tone and voice.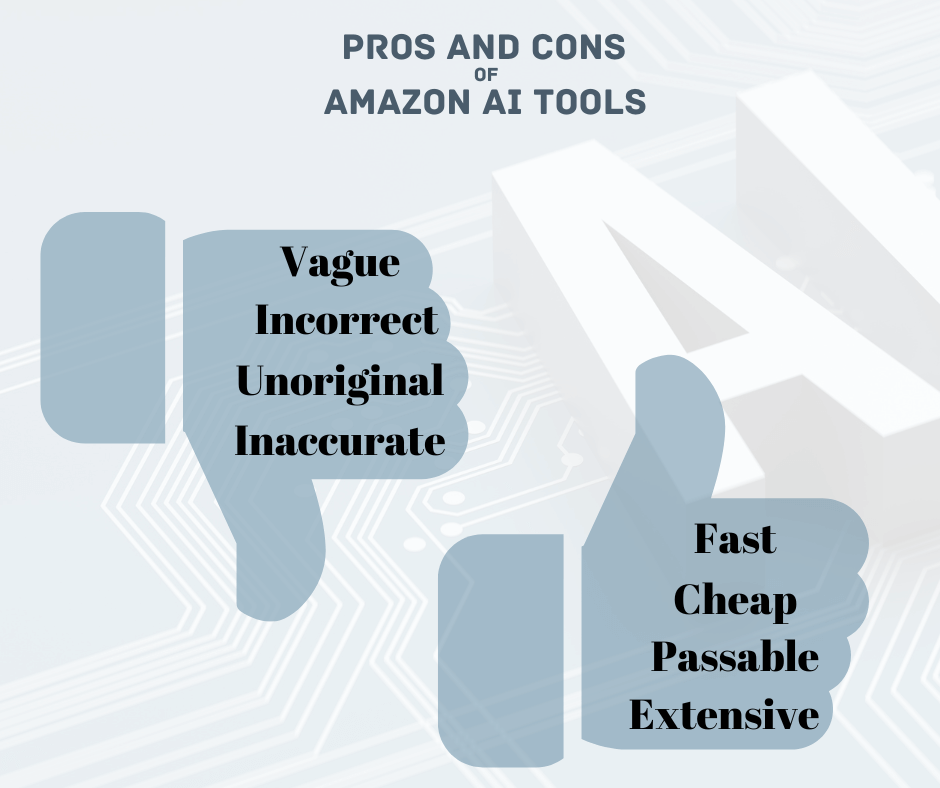 Also, don't underestimate the pushback. There are issues like attribution and plagiarism. Universities are banning AI-assisted plagiarism. Content writers are adopting AI-free certification tools (e.g., Transparent.ai). This is on top of their regular plagiarism checking tools (e.g., Grammarly, Scribbr).
Then there's the issue of ownership and copyright. Artists are protesting and taking AI platforms to court to settle the score. Finally, there is also some concern over privacy and cybersecurity. After all, AI tools can easily be used, hijacked, or developed by hackers and grifters.
So, until the dust settles and these AI tools for e-sellers are fully vetted, it's best not to rely too heavily on them. Not even with proper research, proofreading, and editing. Whether it's an AI copywriter, repricer, keyword optimizer, or video generator, there may come a time when regulators, authorities, and even Amazon decide to suppress it.
Don't miss the chance to get fresh Amazon News and Amazon expert insight articles right when we post them directly in your inbox.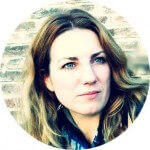 Melanie takes an active interest in all things Amazon. She keeps an eye on the latest developments and keeps Amazon sellers up to speed.