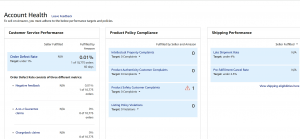 This just in: The
Account Health
Account Health is an Amazon page which c… More
Dashboard now features more Product Policy Compliance reports. Two new fields have just been added to the list of reports available to
Seller Central
Amazon Seller Central is a portal or a h… More
users. It has come to our attention that the Amazon Account Health Dashboard has recently been updated. It now features two new fields.
If you're familiar with the Product Policy Compliance section of your dashboard, you'll know that it displays unresolved complaints relating to product and listing integrity for both seller and Amazon-fulfilled orders. It includes the following two fields:
Product Authenticity Customer Complaints
Product Safety Customer Complaints
Or at least it used to. If you log into your Amazon.com
Seller Central
Amazon Seller Central is a portal or a h… More
account now, you'll see that there are two new fields relating to
intellectual property
A collection of ideas, concepts, … More
and listing policy, namely:
Intellectual Property Complaints
Listing Policy Violations
These new sections haven't been populated just yet, but we expect them to be over the course of Q2. We'll keep abreast of the change, and we're committed to sharing that information with you as soon as it becomes available, so please follow this blog for any updates. This is what you should be able to see when you log into your account. Everything looks pretty straightforward:
But we can't help but wonder if Amazon will repeat the dashboard display errors of last year. There were several teething problems at the launch of the first two reports (i.e. authenticity and safety complaints). They included notifications that had already been removed, for instance. Hopefully, Amazon will find a workaround this time around. How far back they'll go is another question. It's not unusual for sellers to have a history of serious complaints for faults that they've since been able to resolve. Many of our clients were in such situations years ago, but have now improved their business processes and restored their image. Our hope is our readers won't be affected by this latest change. If you're reading this and you're worried about your account or you'd like to share your personal insights, we're here to lend an ear – the SellerEngine team and our readership, that is. So, please feel free to use the comment section below or to contact us by email.
Maria is in the Business Development team of SellerEngine Software. She enjoys the challenge that novelty brings when expanding online businesses, and untangling tangled strings when trying out new things.  The greater the effort, the sweeter the reward, isn't it?