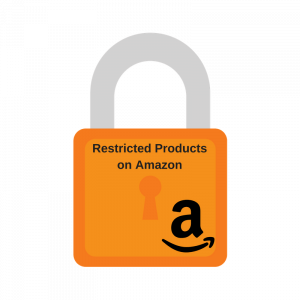 Selling restricted Selling certain product categorie... More products on Amazon is becoming increasingly more difficult. New categories and brands are constantly added to the 'gated' list. Here's what you should know about ungatingPlease see "Gated" categories and selling restricted items on Amazon.
Millions of products are available for sale on Amazon. Some of them, the restricted ones, are subject to specific charges and requirements. Selling restricted products on Amazon can only be done by 'ungating' the categories or the brands involved.
Sellers don't need to memorize the categories of products that require Amazon's approval. Profit Bandit notifies you when you scan items that can't be listed on Amazon without approval. However, if you don't use this or similar software, it's in your best interest to do some research before you stock up on restricted products.
Sellers must comply with all of Amazon's requirements, and they must submit individual applications for every restricted category and brand. There are five main types of requirements that apply to merchants selling restricted products on Amazon:
1. Good Standing
Most categories require sellers to sign up for a Professional Selling Plan, to have a history of selling on Amazon and a website. Some require merchants to be members of an organization, while others need them to have been licensed and in business for a number of years. Merchants must also be able to provide inventory details and invoices from the past 90 days.
2. Trade Show Participation
In some cases, sellers are required to show proof of participation at trade shows and fairs. Table 1 shows   current requirements for sellers listing products in the Fine Art and the Collectible Coins categories.
3. Referral Fees
There are three categories that come with a mandatory ODR below 0.75% – Sports Collectibles, Collectible Coins and Fine Arts products. They also come with referral fees that depend on the selling price. The percentage decreases as the selling price rises, as Table 1 shows.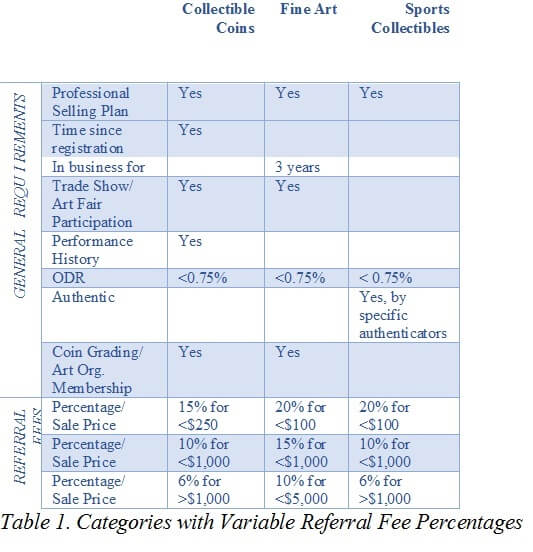 By contrast, the standard referral fee percentages shown in this table remain constant, regardless of price.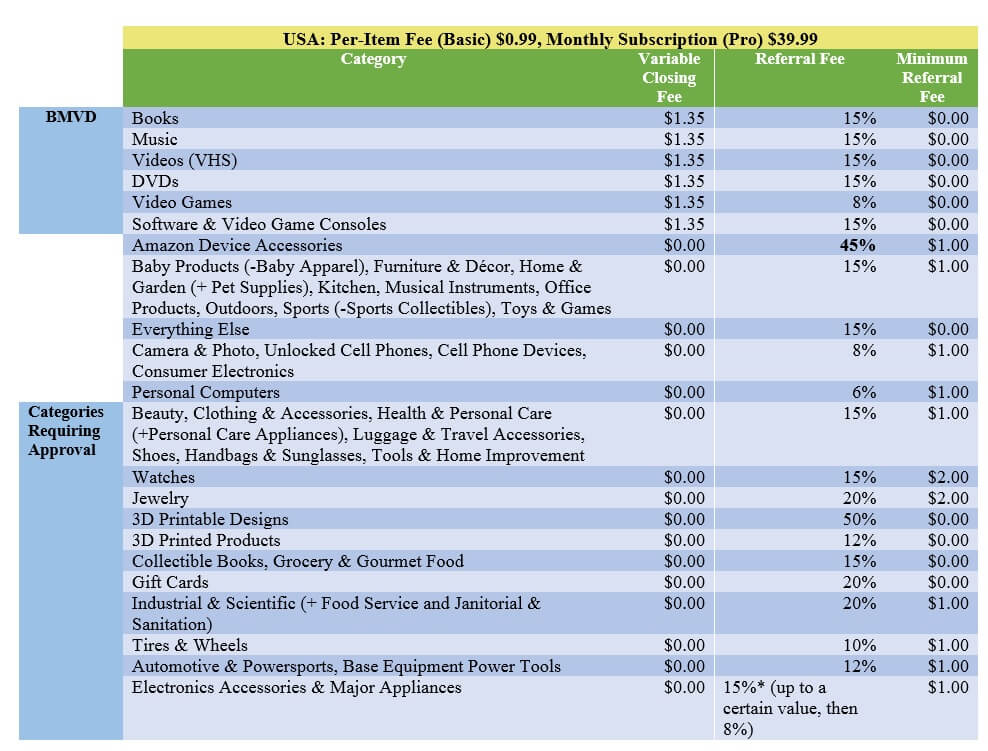 4. Performance
When it comes to collectible items, Amazon has very strict performance standards. Most 'gated' categories are only open to sellers with impeccable metrics, including cancellation rate, ODR, late shipment rate, and customer metrics. Others, like clothing, jewelry and travel accessories, only require basic performance.
5. Product Requirements
Warranty, conditionProducts can only be listed on Amazon if... More, authenticity, and the UPC code are some of the aspects merchants need to take into account before they start selling on Amazon. Invoices and product images that comply with Amazon's requirements are also a must in the Beauty and Health categories.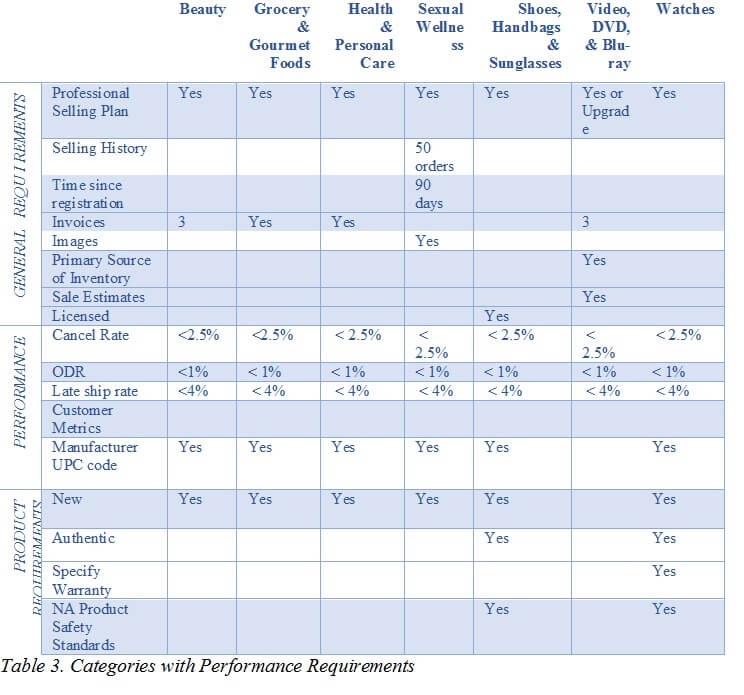 6.Other Requirements 
The table below shows some other category-dependent requirements. The clothing category requires an annual revenue estimate, for instance. The auto category requires sellers to use the manufacturer's UPC code. Finally, Entertainment Collectibles can only be sold by sellers with a certain level of performance in customer metrics.  
Aside from the standard fees in Table 2 and the requirements mentioned in all the other tables that apply to gated Selling certain products and bran... More products, Amazon also levies a fee on gated brands. Our previous post mentions these brands, as well as the application process. Please contact Amazon's pre-approval department at pq-preapprovals@Amazon.com to make enquiries.
For more information on gated products, listing guidelines and scouting for products to sell on Amazon, contact us using the online form. You're also welcome to join our facebook group to share insights with like-minded entrepreneurs.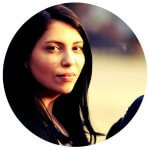 Irina is part of the Business Development Team at SellerEngine Software. She's an expert in bringing back to life Amazon Selling Accounts. Her motto is: everything will be alright in the end, and if it's not alright, then it's not the end.