Just kidding, but I bet that headline got your attention!
In case you don't know, yesterday Amazon introduced the latest Kindle Fire, with an amazing sounding feature called Mayday. Tap a button on your Kindle Fire and within 15 seconds you'll be connected to a real live person who can help you with whatever problem you're having. You can even talk to them and they can draw on your screen so you know exactly what to do next!
It's an incredibly ambitious goal and will set a new standard for customer service if it works.
But it got us to wondering, why not provide a similar service to the 2 million plus sellers on Amazon.com who make about 40% of the sales on Amazon.com?
So I wrote Jeff Bezos a quick email: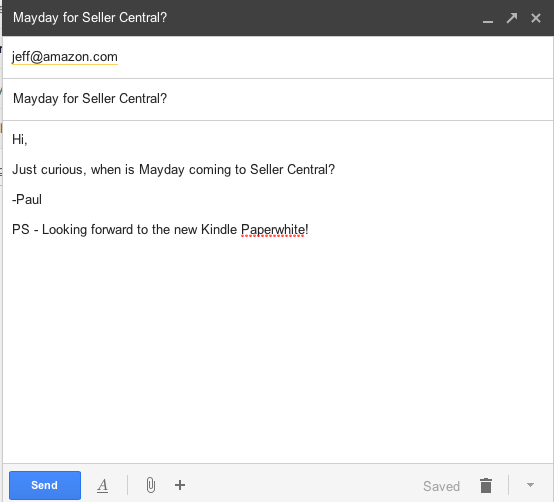 I'm not expecting a response, but improving support for the thousands of sellers who make their living on Amazon's marketplaces and the millions of students and other part-time sellers who sell the occasional book should be a priority for Amazon.
But Amazon sellers  continue to receive automated, templated responses, have little insight and input into the Amazon catalogue (just look at the situation with Add-on products), are left in the dark when it comes to policy decisions, and are subject to confusing and contradictory responses from different Seller Support representatives.
Amazon sellers are under immense pressure to not only provide outstanding service to their customers, but to navigate the confusing rules, regulations and requirements handed down from Amazon, often on their own after experiencing frustration with the support resources available to them.
By improving support provided to third party sellers, Amazon would make it easier for sellers to focus on sourcing great products, creating beautiful listings and providing outstanding service to their customers.
Everybody wins!
But, I'm not expecting a Mayday button in Seller Central anytime soon. Then again, you never know. Maybe Jeff will write back with good news.
Of course for us, it might be bad news. If selling on Amazon becomes too easy, we at SellerEngine might be out of a job.